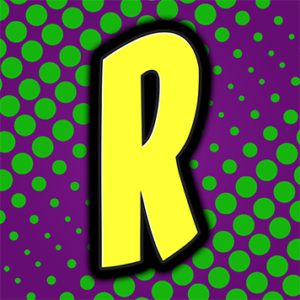 Rehearsal® Pro is the app for actors! Want to learn your lines? Want to be off-book, and book more work?
Rehearsal® Pro is the app for that. Its predecessor, Rehearsal® 2, featured in the New York Times, Fast Company, LA Magazine and BACKSTAGE, became the entertainment industry standard for cast and crew to organize their scripts for auditions and working on set. Battle tested in Hollywood and around the world by professional actors and acting students.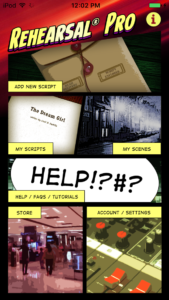 And now, there's Rehearsal® Pro.
DOWNLOAD INSTANTLY: Just click the button while viewing this page on your iPhone, iPad or iPod Touch:
DOWNLOAD Rehearsal® Pro Instantly
"I love this app! Rehearsal® lets me learn my lines in the car while I drive to work. It already saved my butt when I was thrown a major new dialogue scene 45 minutes before we started shooting it. I plugged the new scene into Rehearsal and I was off book by the time I got out of the make up chair." — Clark Gregg (Marvel's Agents of SHIELD, Iron Man, Iron Man 2, Desperate Housewives, New Adventures of Old Christine)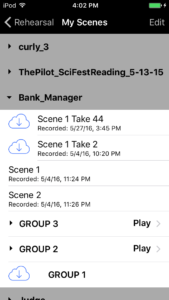 "I am very pleased with the results of using Rehearsal® so far. It is a powerful tool in preparing for auditions, or for days of work, especially when I am pressed for time. It is easy to use and I have no doubt that as it evolves, it will be a part of my work process for a long time."
— John Carroll Lynch (Shutter Island, Dexter, The Drew Carey Show, Body of Proof)
Rehearsal® Pro is…
extremely easy to use, solid and reliable
intuitive: it reminds you of what you do with physical scripts
usable with any current iOS device, and syncs script markup between all of them
costs one low price for unlimited usage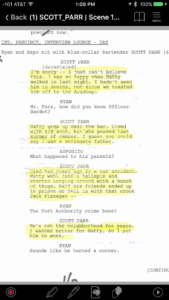 For actors from all walks of life and all levels of accomplishment
works with short audition sides, to feature length scripts
easily handles physical scripts by bursting and scanning to PDF
for every actor at any skill level, student, amateur or professional
for every actor in every arena, from community theater, commercial, industrial, stage, web, VO, television, and film
get help with on-board demo videos that show you how to do nearly everything
DOWNLOAD INSTANTLY: Just click this while viewing this page on your iPhone, iPad or iPod Touch:
Manage your scripts and sides easily
Sync scripts between your devices
Manage scanned-in scripts for theater productions
Rotate, crop, collate and tint your pages
add physical scripts by snapping pictures of pages
create bookmarks and easily jump to a particular page
work with the same PDF and Word files you get on your computer
easily break down your script into your scenes
reading your script is a snap – just flick and scroll
Learn your lines quickly
highlight your lines and your scene partners' lines in vibrant colors
record your lines and play them back, watching the script scroll by like a teleprompter
quickly fast forward or rewind to pick up lines simply
record unlimited versions of scenes, exploring your character and creating new reads
automatically repeat your scene over and over until you know your lines cold
assemble multi-scene auditions into one repeating group
pause recording and playback
play peekaboo to memorize – reveal your lines in blackout mode
quickly add beat marks to longer passages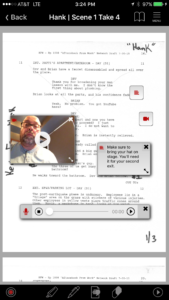 Explore your characters
easily create and review comments: text, audio, photo or video
record different takes on lines, different looks for characters
have all your choices at your fingertips for instant review
Special features just for voice talent
audition for voice over work from anywhere
email in your auditions as MP3 files from anywhere to anyone
Everyone on the production team can use Rehearsal® Pro
location scouts can create quick and easy reports
makeup, wardrobe, set dressers: keep track of continuity and looks from scene to scene
directors and cinematographers: plan shots and create on-the-fly storyboards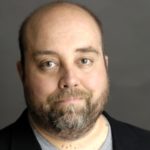 Rehearsal® Pro was created by a working actor just like you, David H. Lawrence XVII, best known as the creepy Eric Doyle, the Puppetmaster on NBC's Heroes.
DOWNLOAD INSTANTLY: Just click this while viewing this page on your iPhone, iPad or iPod Touch: